Home for the Aged
The Homes consist of 10 houses
Accommodation in the various houses offer:
• Single and double rooms with wash basins and built-in cupboards
• Emergency buttons in each room
• Bathrooms, showers and ample ablutions are shared by residents. Bathroom and ablution areas are cleaned on a continual basis throughout the day
• All rooms are carpeted and fitted with a heater
• Residents provide their own furniture, bed linen, television and curtains to personalise their rooms
• Communal dining room
• Communal lounge, where tea is served and where residents can participate in various activities, e.g. building puzzles, play various games, read etc.
Services We offer:
Exercise group, handwork group and games mornings.
• Swimming pool.
• Special Christmas lunch for residents, held early December.
• Hairdresser, library and tuck shop.
• Weekly video shows and recreational functions.
• Emergency bells in all rooms.
• Meals in rooms to residents who are ill.
• Services of part-time social worker/organizer.
• Podiatrist and physiotherapist available privately, upon request and at a fee.
• The Homes continuously strive to improve their service to their residents through their quality assurance program.
• Fully equipped self-catering two-roomed flat can be rented to accommodate visitors at a reasonable rate.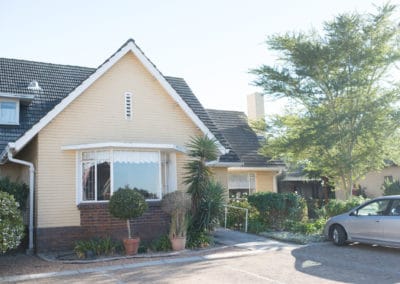 Need more information
If you are interested in the Home for the Aged and would like additional information.